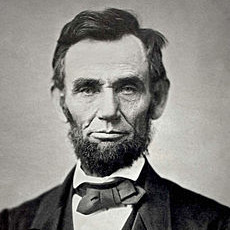 Abraham Lincoln (February 12, 1809 – April 15, 1865): Considered one of the great presidents of the United States, Abraham Lincoln was the 16th president. Lincoln served as President from March 1861 until his assassination in April 1865.
Big accomplishments: Lincoln led the United States through the Civil War, abolished slavery, strengthened the federal government, and modernized the economy.
Background: Reared in rural Kentucky and Indiana by an impoverished family, Lincoln held various odd jobs throughout his early years. By the 1830s, Lincoln became a self-educated lawyer and statesmen in the Illinois legislature. Lincoln was a staunch advocate of rapid economic modernization through banking, canals, railroads, and tariffs to encourage the building of factories. Lincoln served a single term in Congress in the late 1840s where he notably opposed the war with Mexico and criticized the presence of slavery in the nation's capital.